Notice no.17/2020-21
28/07/2020
NOTICE
For Classes VI,VII &VIII and XI & XII
Date: 28th July, 2020
Dear parents,
Kindly note that we will be having an online Orientation Session over Zoom on Friday, 31st July,'20 for the following classes as per the time mentioned below:
For classes VI; VII & VIII – from 10:30 to 11:30 a.m.
For classes XI & XII – from 12:30 to 1:30 p.m.
In this connection please ensure that-
Your device has the Zoom App downloaded- The link will be shared to you by the class teachers on Thursday.

Each family is requested to use only one device for the Orientation.

Kindly do not write in the Chat Box, as the audio quality will be disturbed.

In case you wish to ask a few questions, you may type the same in the Chat Box, but only after half the session is over. Due to an overload the video and audio quality gets hampered.

There will be no classes for VI; VII & VIII on this Friday.

Classes XI & XII will have only the first two periods i.e. from 9 to 10 and 10 to 11 a.m.

It is imperative that at least one parent attends this Orientation.
Best regards,
Loveleen Saigal
Principal
Notice no.16/2020-21
07/07/2020
NOTICE - SECOND QUARTER FEES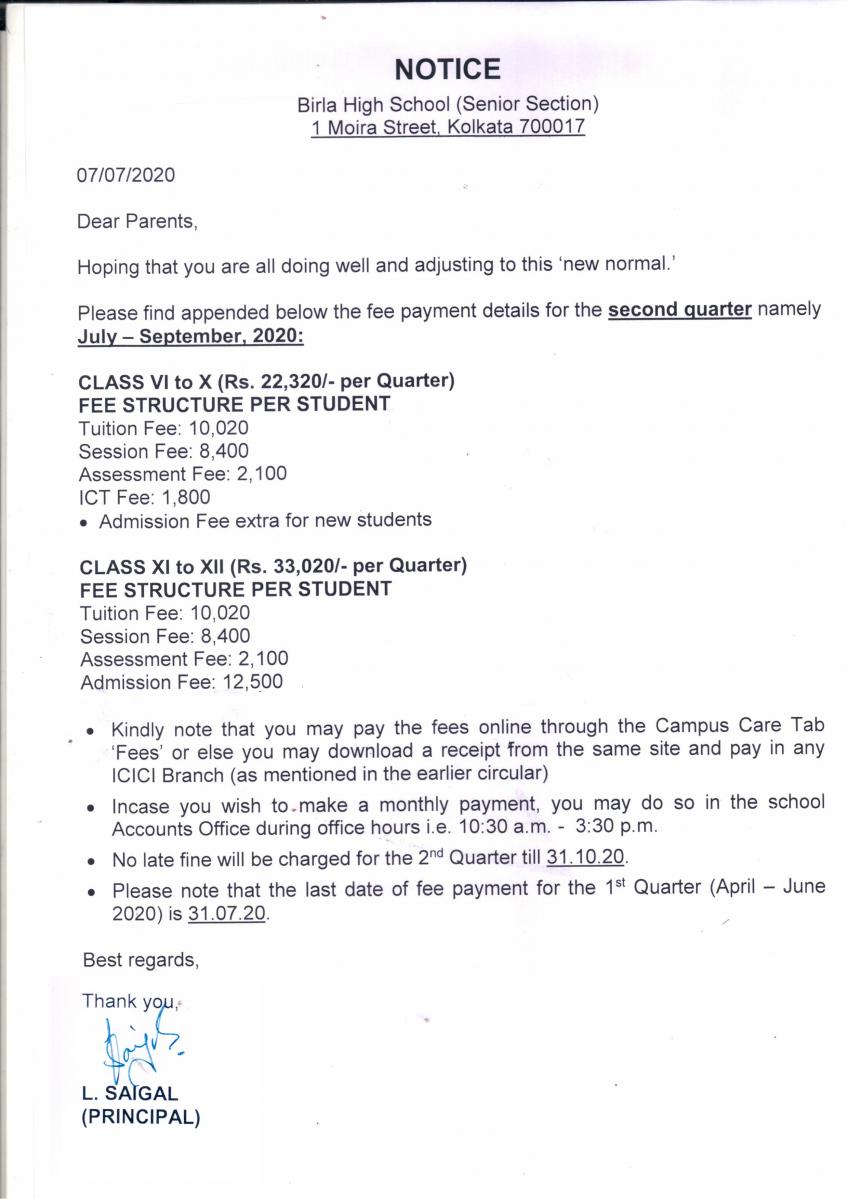 Thanks,
Mrs. Loveleen Saigal
Principal
Notice no.15/2020-21
07/07/2020
21st L.N.Birla Memorial Debate

Thanks,
Mrs Loveleen Saigal
Principal
Notice No.14/2020-21
01/07/2020
NOTICE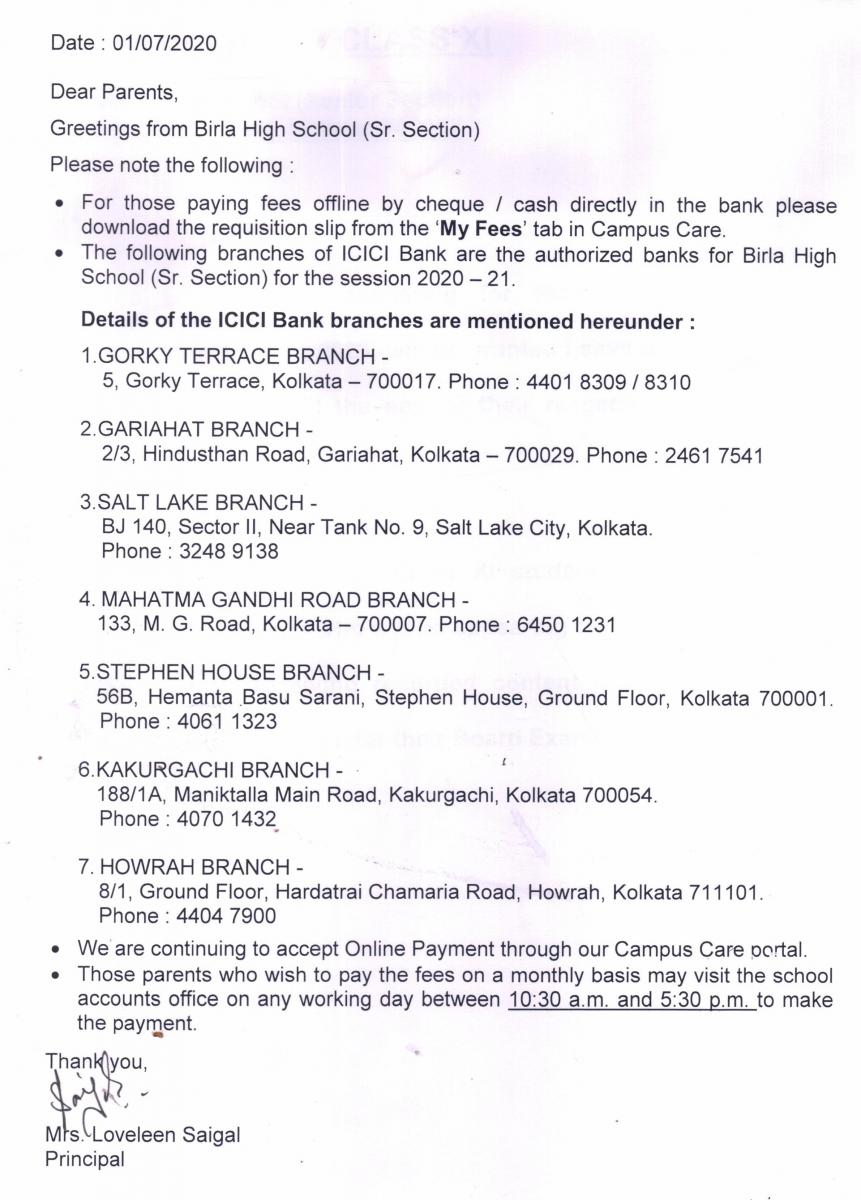 Notice No.13/2020-21
28/06/2020
International Yoga Day Celebration
"Yoga is a journey
Of the Self
To the Self
Through the Self."
Yoga helps in maintaining the balance of the body.It also helps in controlling an individual's mind, body and soul. It is one of the best disciplines that one can have in Life.
Yoga helps a person to combat and overcome stress, anxiety and depression. Thus, the students of BHS have made an effort to make people realise the benefits of yoga in life. The following presentation on International Yoga Day is almost like a handbook of various yoga postures performed by our students.
      https://www.facebook.com/bhssrkolkata/videos/305521470615942/
Thanks,
Mrs Loveleen Saigal
Principal
Notice No.12/2020-21
22/06/2020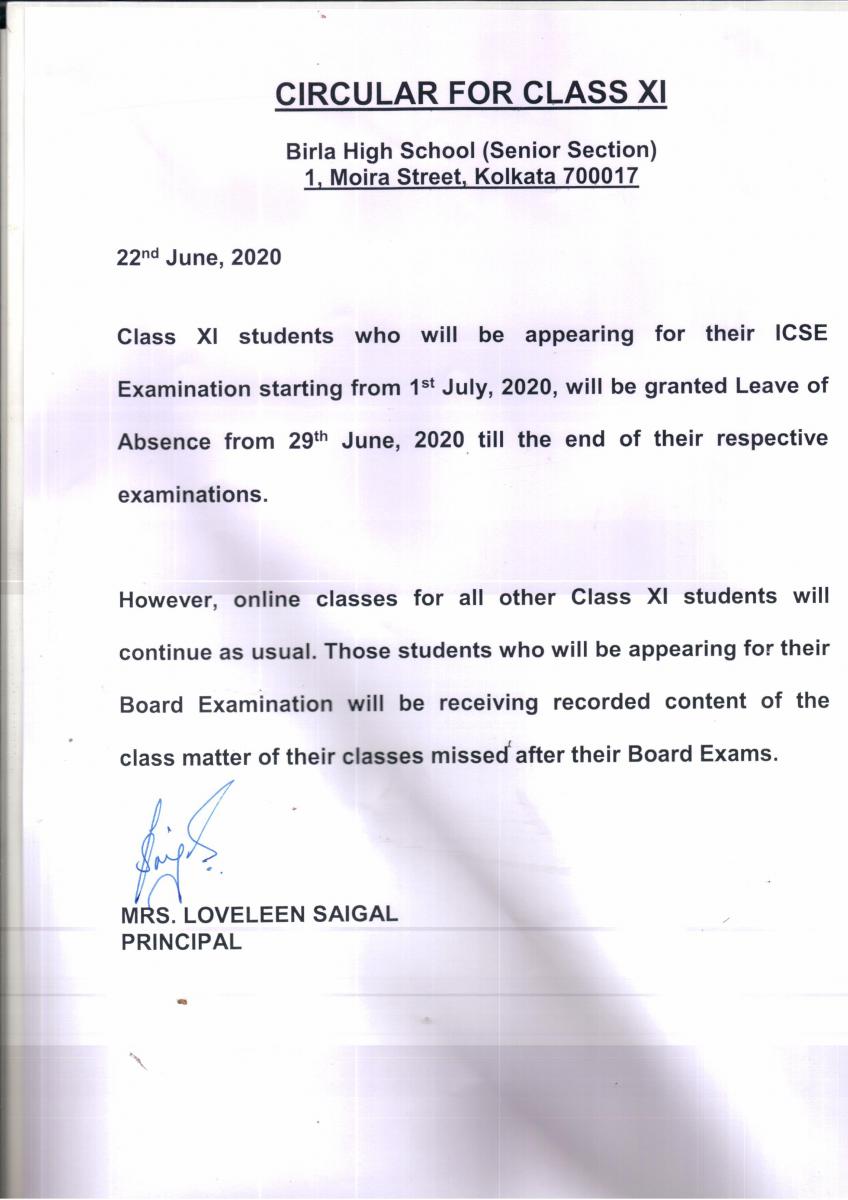 Notice No.11/2020-21
20/06/2020
Notice for International Yoga Day
Fit India Mission is conducting a campaign for the overall physical, emotional and mental well-being of school students, esp. during the lockdown period. As a part of its continued efforts, the Fit India Mission is organizing a special live session at 5.00 pm on 21st June 2020 to celebrate the International Yoga Day.
Ms. Shilpa Shetty, renowned fitness icon and experienced yoga practitioner, will be conducting the live session on Fit India You Tube Channel. Hon'ble Minister of Youth Affairs and Sports and two sports icons are also likely to join the live session.
The session is being specially designed keeping in mind the guidelines of the Ministry of Ayush about YOGA@HOME and to engage children meaningfully through fun and educational elements of yoga.
Schools are requested to share the above information with the students so that they along with their families can benefit from the programme.
Thanks,
CBSE, Academic Unit
Notice No.10/2020-21
20/06/2020
NOTICE
Subject: 'Yoga at Home, Yoga with Family' - Observing International day of Yoga on 21st June 2020.
Invite you all for a Free Online Live Program on International Yoga Day.
About HappleyFit
At HappleyFit our mission is to help child grow into a Healthy Adult, by inculcating good habits in them when they are young.
ABOUT OUR EVENT
Join us for a fun and interactive 45 minute beginner-friendly Yoga session guided by an HappleyFit Iyengar Yoga Practitioner. Our trainer will walk you through the basic essentials on alignment with a flow of asanas.
Date: 21st June 2020
Staff & Parents Session: 9:00 AM - 9:45 AM
Students Session: 10:15 AM - 11:00 AM
Enrollment Link: https://happley.fit/free-online-live-session-international-yoga-day/ (live session details will be shared after enrollment)
Notice No.09/2020-21
09/06/2020
NOTICE FOR PARENTS AND STUDENTS
Dear parents and students,
My sincerest wishes that you are all doing well and have gradually adjusted to this 'new normal'. As you are aware that due to the recent spike in COVID cases and the government's advisory, school will remain closed till further notice.
Online classes have already commenced for Classes X, XI & XII, since 1st June and will once again start for Classes VI – IX. As you understand that this domain of digital learning is a challenge both for the teachers and the taught. Our students and teachers have stood the test and I am sure that starting Monday,15th June'20, these classes will be more interactive and productive.
I urge all parents and students to take note of the points mentioned hereunder when the online classes commence :
Online classes for VI – XII will start from Monday, 15th June, 2020

Timings for these classes will be as follows :
8:45 a.m. - 9:00 a.m. - Class Teachers Period & Prayer (thrice a week)

9:00 a.m.  - 10:00 a.m. - 1st Period

10:00 a.m. - 11:00 a.m. - 2nd Period

11:00 a.m. - 11:30 a.m. - Break

11:30 a.m. - 12:30 a.m. - 3rd Period

12:30 p.m. - 1:30 p.m. - 4th Period
Classes VI to VIII will have Art/Craft /Music / Dance; General Knowledge & Life Skill classes once a week. Similarly classes IX & X will have Art/ Craft/ Music / Dance; Work Education once a week.
 1. Attendance for all classes will be taken and all students are to take these classes seriously.
 2. The classes will be conducted over Google Meet.
 3. Students must wear their school uniform during the online classes and find themselves a quiet corner in the house where there are no distractions.
 4.  Students are to be ready with their notebooks, stationery etc before the commencement of the class.
 5.   Kindly ensure that the net connectivity is strong so that the class is not disturbed.
 6.  Parents are requested to allow the students to take their classes independently without any interference.
 7. Assessments will commence around the end of June. The class/subject teachers will inform the students about the         date,  time and mode of assessment.
The school and the staff are taking all necessary steps to ensure that these classes are held seamlessly. We solicit the co-operation of the parents in providing their wards an independent, quiet study area, strong net connectivity and an operative device to ensure productive learning.
These are trying times and we all are going through this together. In due course of time we will have an online orientation with each class to apprise you of the assessment pattern and other class-specific information.
Hoping that we will all emerge stronger and keep the learning curve moving higher for our students. Stay well connected with the teachers for all necessary instructions. Should you wish to connect with me, you may send me a mail on principal@birlahighschool.com.
Stay Safe and Healthy!
Best wishes
Mrs. Loveleen Saigal
Principal
Notice No.08/2020-21
30/05/2020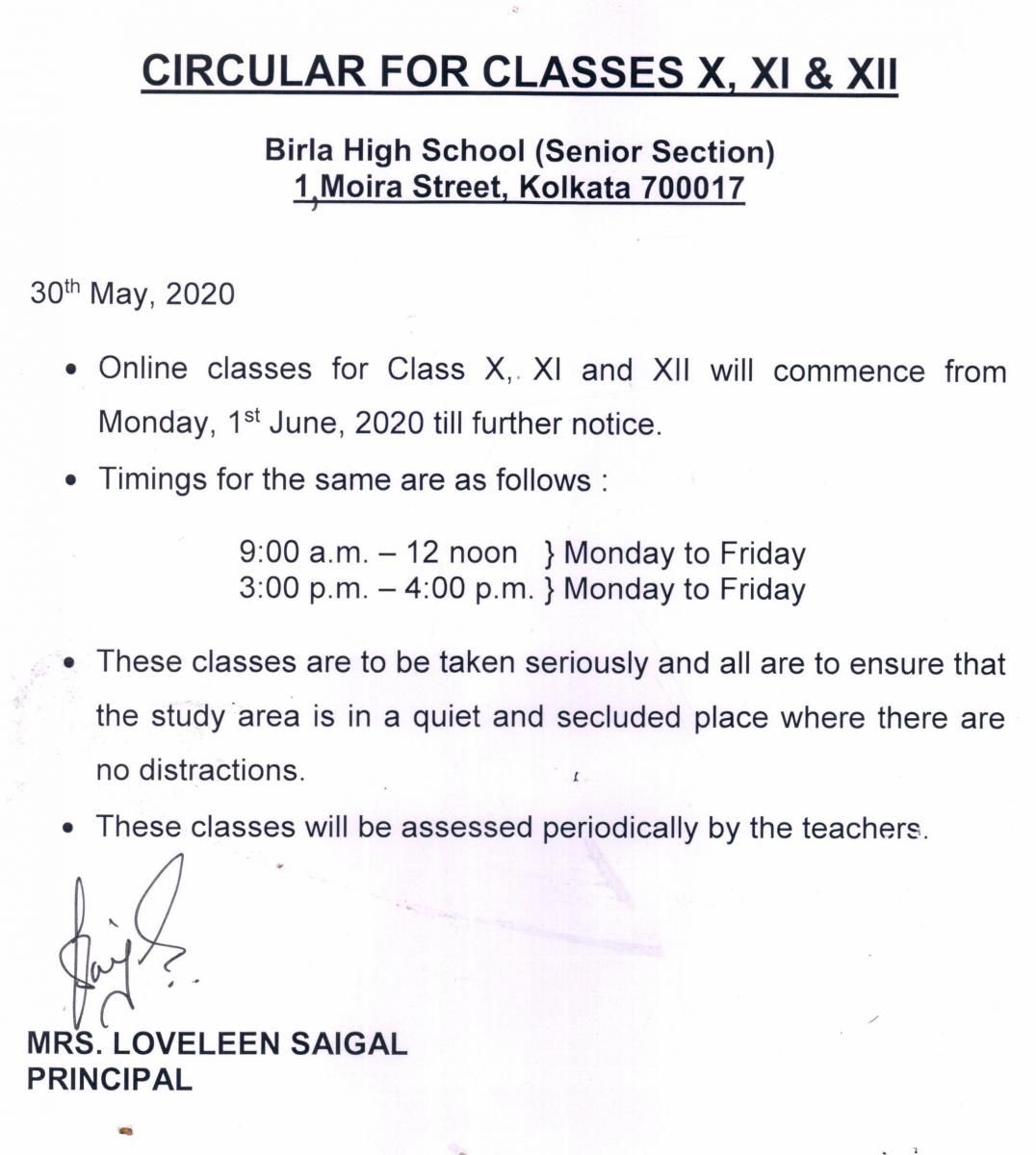 Birla High School
Pages