Notice No.46/2021-22
15/01/2022
NOTICE
Pariksha Pe Charcha (PPC-5) - Creative Writing Contest 2022 (28th Dec.'21 to 20th Jan.'22)
Students, Parents & Teachers of Classes IX to XII are requested to go through the attached CBSE Circular and participate in the Creative Writing Contest by registering their names and other details through the following link : https://innovateindia.mygov.in/ppc-2022/
Click to download the Circular  
Regards,
Loveleen Saigal,
Principal
Notice No.44/2021-22
06/01/2022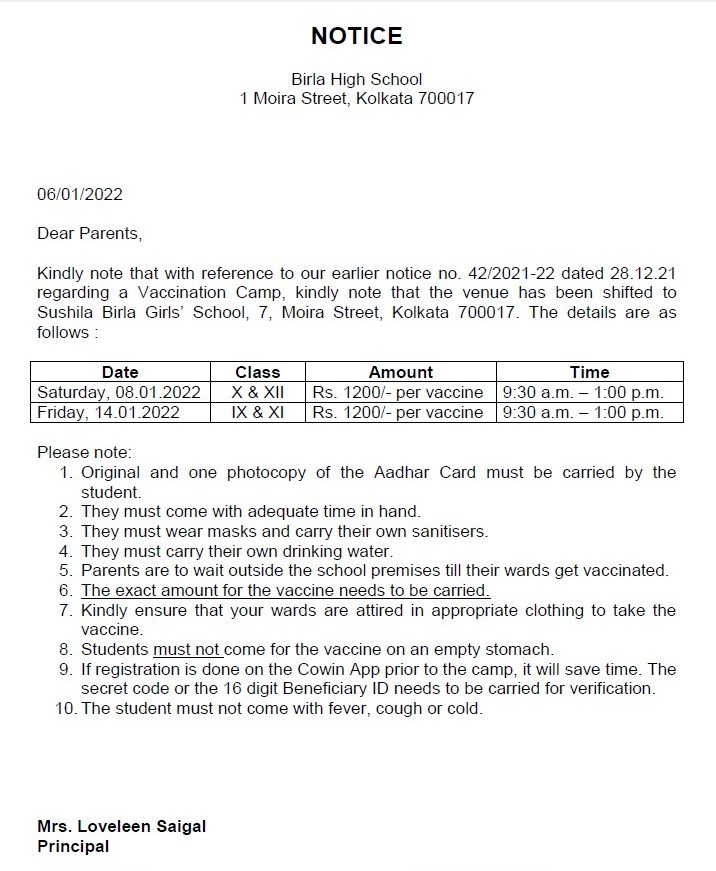 Notice No.43/2021-22
30/12/2021
NOTICE
30.12.2021
CIRCULAR
Charging of fees from January 2022
Dear Parents/Guardians,
This is to inform all concerned that in terms of the notification of the State government dated 28th October, 2021 with regard to reopening of schools in physical/hybrid mode from Class IX to XII, the school has commenced classes in physical/hybrid mode for students from Class IX to XII w.e.f 16th November, 2021 as mandated by the State government.
In terms of the Hon'ble Calcutta High Court order of 13th October, 2020 read in conjunction with orders of 3rd December, 2021 and 17th December, 2021, one month after commencement of physical classes, the School management has decided to restore 100% school fees for students of Classes IX to XII with effect from 1st January, 2022. The details of the fees chargeable on a monthly basis for students of Classes IX to XII is given as under:
                         1.Class IX-X : Rs. 9425
                         2.Class XI-XII (Sc) : Rs. 9425/8675
                         3.Class XI-XII (C&H) : Rs. 8375/8975
Fees for classes Nursery to VIII will continue at the discounted rate as hitherto fore as ordered by the Hon'ble High Court at Calcutta vide order dated 17th December, 2021. The last date of fee receipt will be 15th January, 2022.
This notice is issued subject to further order that may be passed by competent court(s).
It is hoped that your active cooperation, as always, will remain to implement the said decision in accordance with the Hon'ble Court's order.
Wishing you all the very best for a Happy New Year – 2022.
 Regards,
 
Loveleen Saigal,
Principal
Notice No.42/2021-22
28/12/2021
Circular for Classes IX – XII
Dear parents/ guardian,
 
The government has allowed children between the age group of 15 -18 years (those born in 2007 or earlier) to take Covaxin. You would be happy to know that the school authorities are organizing a vaccination camp conducted by Belle Vue Clinic on 13th & 14th of January, 2022 in Birla High School. You will be informed about the cost of the vaccine closer to the date of the said camp.
Kindly fill up the letter of consent given below and mail it to the class teacher of your ward by the 3rd of January,2022 or send it along with your ward to school on 4th January,'22.
Download -  letter of consent
 
Regards,
 
Loveleen Saigal,
Principal
Notice No.41/2021-22
23/12/2021
NOTICE
The Christmas Day Special Assembly programme will be uploaded on the school Facebook page (www.facebook.com/bhssrkolkata) on 25th December, 2021 at 8.30 a.m.
 
Wishing all students, parents and well-wishers a Merry Christmas and a Happy New Year!
 
Regards,
 
Loveleen Saigal,
Principal
Notice No.40/2021-22
10/12/2021
NOTICE
Message from the Counsellors -
Welcome back to school dear students. It has been quite some time you have been away from school and have adapted well to the virtual mode of learning. But now since the scenario has improved to some extent and slowly things are getting normalized, the West Bengal government has decided to reopen the senior section of the schools following all COVID protocols. As such our school has reopened for classes 9 to 12 and every step has been taken to ensure the safety of the students and staff. We understand that you are super excited to rejoin school after such a long gap but at the same time you are apprehensive as well. Let us share with you a few points that will help you to adjust well with this new situation
. Do not panic rather be informed and follow the COVID guidelines – wearing mask properly, washing/sanitising hands frequently, maintaining a safe physical distance, avoid being in a crowded area, etc.
. Bring your own stationary, tiffin and water. Avoid sharing such things with your friends.
. Refrain from any sort of physical touch.
. Try to overcome your fear and phobia regarding COVID-19. Remember we have to get back to our normal mode of functioning
. Excessive fear might lead to panic which in turn might affect your normal functioning. So think positive and motivate yourself to take up this challenge of facing the situation in a better way.
. Focus on improving your immunity by having balanced diet, regular exercising, having adequate sleep.
. Relaxation is a key to rejuvenate your mind and body. So keep some time during the day to unwind yourself, do something you enjoy and is constructive.
. We understand that use of internet has become an integral part of our life. But please use it judiciously. Over exposure has a negative impact on your attention, concentration, memory and your performance as a whole. It might also lead to restlessness, irritability, aggression as well as depression which as a whole might have a detrimental effect on your future life.
. Plan your day ahead, follow a schedule, do organized target based studies with stress on written work.
. Avoid information overload related to COVID-19. Be informed but do not overburden yourself.
.The pandemic situation has affected the mental state of each person, some might have gone through a very difficult situation as well. But remember we have to cope with it and march ahead, life cannot come  to a standstill.
If there is anything that is disturbing you mentally/emotionally and you are finding it hard to cope with, we are always there to help you.
Soumita Sinha & Joyeeta Mojumder
School Counsellors
Notice No.39/2021-22
10/12/2021
NOTICE FOR CLASSES 9 & 11 (2021-22)
CBSE REGISTRATION
The students of classes – 9 & 11 (2021 - 2022) are requested to bring a sum of Rs.375/- (in cash) for the following :
Board Registration Fee :     Rs.300/-

Forwarding/processing Fee : Rs.75/-
                       Total: Rs.375/-
Please hand over the exact cash amount of Rs.375/- to your Class Teacher positively by 16th December, 2021 (Thursday).
Regards,
Loveleen Saigal,
Principal
Notice No.38/2021-22
29/11/2021
NOTICE
We are extremely glad to release the second edition of the Quarterly E-newsletter E - SCROLL of Birla High School for the period July - September 2021.
Regards,
Loveleen Saigal,
Principal
Notice No.37/2021-22
13/11/2021
NOTICE
The Children's Day program will be uploaded on the school Facebook page (www.facebook.com/bhssrkolkata) on 14th November, 2021 at 9:30 am.
Wishing all students a very Happy Children's Day!
Regards,
Loveleen Saigal,
Principal
Notice No.36/2021-22
11/11/2021
NOTICE
11.11.2021
ORIENTATION CIRCULAR FOR CLASSES IX TO XII
Dear Parents and Students,
The time we have all been waiting for has finally arrived. The school and teachers are ready to welcome students of Classes IX to XII back again.
In connection to the school reopening, a virtual orientation session for Parents and Students of Classes IX to XII has been scheduled on Saturday, 13th November, 2021. 
Given below are the time slots for the Zoom Meet:
    1.Classes IX and X : 10:00 a.m. – 11:00 a.m.
    2.Classes XI and XII : 11:30 a.m. – 12:30 p.m.
The Zoom link will be shared with the students by their respective class teachers.
All are requested to attend the session.
Regards,
Loveleen Saigal
Principal
Pages